app day small
App Day
is all about promoting computer science literacy from an early age and providing opportunities for learning these skills within the context of public education, where they will be available to everyone.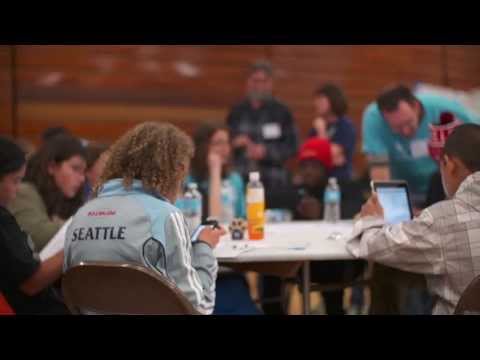 Create a programming event where a classroom of students program their first apps. App Day shows students the possibility of programming cool apps & games.
Student become proud programmers - their idea of programming and the whole geek thing is dismissed. During demo time, students showcase their apps. Throughout the event, students receive the opportunity to win raffle tickets for their progress and show off what they had built in just an hour to their peers.
App Day Small serves to educate a classroom of students from inside a teacher's technology lab, classroom, or library. The event can occur in four sessions during a normal block period (50 - 60 minutes).
Preparation
A teacher could ensure students receive an appropriate amount of space in the room to develop an game or app. Here are a few tips when assigning students during a workshop:
Assign areas of the room with a color coded scheme.
Assign participants to certain areas of the room.
Knowledge of TouchDevelop:
Complete device setup tutorial & one workshop a day with the students in a class. Teaching
App Day
curriculum develops a greater level of mastery in workshops for building apps. Those students taught in
App Day Small
workshops could eventually serve as student ambassadors for an App Day event throughout the school or district.
read more...
Schedule
The total timeline of the event should span four x fifty minute (50 minute) classes. This event fits best with four block periods.
read more...
Checklist
- Planning the event one week in advance ensures that App Day logistics will be complete.
read more...
Workshop Sessions
TouchDevelop will run a print job to bundle your workshop materials in packet. The packet will include the cover page, workshop tutorials, stop section divider, and device setup instructions.
read more...
Tickets
Tickets are given to students. They receive approximately 4 tickets for 1 session. You distribute tickets based upon workshop checkpoints.
read more...
.
Raffles After every workshop, the tickets get compiled, then conduct a raffle. Your raffle will be to distribute swag (giveaways). In addition to simply distributing and calling winning tickets, you could be intentional on distributing tickets.
Swag Swag or giveaways are typically performed after a workshops. You can giveaway swag based on tickets and/or students who demonstrate her / his apps on stage. We recommend the MC calls out two winners per workshop based on the serial number printed on a ticket. Student demo cards are generally distributed as students complete a workshop. Students generally volunteer to present apps.
Areas
Designate a room layout: The room layout should capture the color coded areas, presentation station and demo area. The areas of the room that are assigned for student work areas should be clearly marked using a color code system. You can place colored paper or project a certain color using a projector.
read more...
Area Leaders- You lead the group of students through a five minute tutorial before starting the timer. Then answer questions for students once workshop begins.
Demo Station We recommend you distribute a paper for students who want to demo their script. Students should publish their script on TouchDevelop. The teacher should provide a projector and document camera for student demonstrations. Student should bring their app to the front of the room their scrip IDs. You can download their their script ID and display their app. A second option would include students displaying their screen on the document camera surface. During an app demo, the student should introduce themselves, their app name, and describe the app to their peers.
Wi-Fi
TouchDevelop is a webapp; however, it works offline once loaded onto the browser.
read more...
Electricity You should find a way to power about 20% of student devices. Purchasing power strips and having them spaced around the room might be a safe precaution to ensure devices receive power.
Day of App Day
Set-up
60 minutes
External Speakers & Spotify
Demo Document Camera, Projector, Projector Screen
Swag or giveaways
Device Setup
Workshops
Entertainment You should setup Spotify.com & external speakers to plays the Party playlist. After the five (5) minute workshop demo, the students begin programming. The teacher begins the music. The next announcement occurs with the 5 minute warning. Pause the music during the announcement. Then continues playing the party playlist until the time finishes for the workshop.
Demo Time It is easiest to use a document camera to demo the apps so that students simply bring their device on stage. If not available, you can collect the script id (/abc ..) from the students and load them on the computer that is connected to the projector. We usually recommend a fast demo to allow many students to show their work.
After Event
Concluding Speech After the workshop, the teacher should provide a summary of the experience to the students. You could address anyone who helped in developing materials for this event.
Thank you message
Follow Up
---