app day large
App Day
is a programming event geared towards giving public school students a taste of computer science and basic programming over the course of a single day. Everyone is welcome to attend, regardless of prior computer science knowledge or experience.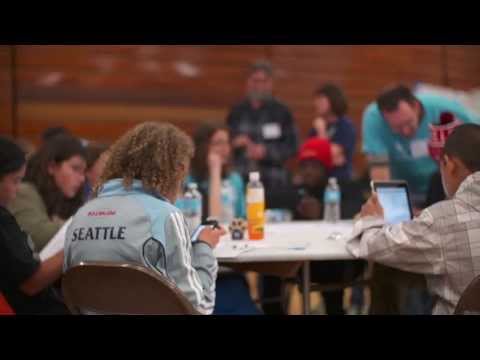 Students learn to use a web app called TouchDevelop to program apps and games on their own Windows phones, Androids, iPhones, iPads, laptops, or whatever device they have brought with them to the event. Technical volunteers circulate supporting the participants' efforts. The event's atmosphere is intended to be energetic and fun. For example, there may be pizza, a DJ, dance competitions, raffle ticket give-aways, and so forth.
The day ends with student demos. Participants are given the opportunity to get up on stage and show off their new apps to their peers. The goal is to excite and empower students to work with, and become innovators of, technology.
App Day Large serves to educate many students in computer science lessons all at once from inside a venue equal in size to a basketball court or conference room.
Preperation
General Registration Registration is a key organizational element to ensure that work stations have an equal number of students and volunteers and that both students and volunteers receive the appropriate resources. The following registration model will help your event run smoothly and efficiently.
Color-code the different work stations of the venue.
Assign an area leader, technical volunteers, non-technical volunteers, and student ambassadors to each work station and color.
Pre-assign participants to work stations, attempting to group students by their chaperon.
The ratio of volunteers to participants will vary from one event to the next; the main objective however is to distribute volunteers and participants evenly throughout room.
Participant Pre-Registration Accurate registration records are important to ensure the work stations have an adequate number of students, volunteers, and equipment. Collect the following information in advance of the event (find pre-registration materials here):
students: name, type of device to be used at event (smart phone, tablet, laptop, "loaned device"), level of computer science knowledge, confirmation that student has a current gmail/hotmail/yahoo email account, NDA waiver (Non-Disclosure Agreement)
chaperon: name, contact information (both email and phone number), number of students that they will be chaperoning and list of names, NDA waiver
name tags: name, school/organization, work station color
Volunteer Assignments and Responsibilities Technical and non-technical volunteers must be assigned to work stations based on their skill set, availability, and (if possible) preferences. Collect this useful participant registration information:
volunteer card (name, email address, volunteer commitment, volunteer preference)
area leader (technical volunteer) deliver five-minute workshop sessions (on personal laptop; projector will be provided by event organizers); answer student questions regarding each workshop; check that area volunteers have sufficient raffle tickets to give to students (4 x number of students x number of workshops); check that raffle tickets are collected after each workshop session; distribute "demo cards" throughout the event for students demos at the end (one student per school, to be decided by the chaperon).
technical volunteer Responsibilities: answer student questions regarding workshop; distribute students sufficient raffle tickets; distribute app demo cards
area leader non-technical volunteer Select a responsibility: Communicate and market event; Registration of volunteers, student; Coordinate transportation of food and drinks; Inventory devices, checkout devices, check-in devices; Manage demo signups
non-technical volunteer Responsibilities: Support volunteers with registration, device loans, food transportation, demo signups.
volunteer availability (full day or half day)
Knowledge of TouchDevelop: Complete device setup & workshops
Knowledge of App Day
Run
App Day Small
as a trial before App Day Large. Delivering a
App Day Small
with a classroom of students helps with level of understanding of the app building workshops. These students eventually serve as volunteers for App Day Large. In order to properly troubleshoot for the full scale event, App Day Large, you should train students who will serve as volunteers.
read more...
Develop Committees
Select committee members to delegate critical tasks for operating a successful App Day Large. Forming committees can develop through the formal process of finding volunteers (ie. non-technical volunteers). Additionally, committee members might volunteer at the school and/or site location. Committee members become responsible for one of the many areas of logistics: communication, fiscal, registration, IT, network, device loan, food or volunteer coordinator. We define the roles for committee members in logistics.
read more...
Schedule
The total timeline of the event should span three hours (180 minutes). This event fits best with a full day. When scheduling the event, aim to start the event after breakfast (around 10:00 am) and finish the event before school dismisses (around 01: 00 pm)
read more...
Checklist
- Planning the event on a date three months in advance ensures that the registration, volunteer training, and logistics will be complete.
read more...
Workshop Sessions
TouchDevelop will run a print job to bundle your workshop materials in one large packet. The packet will include the cover page, workshop tutorials, stop section divider, and device setup instructions.
read more...
Tickets - Tickets are given to students. They receive approximately 12 tickets for a 3 sessions. You should designate tickets based upon workshop checkpoint. read more....
Raffles After every workshop, the tickets get compiled, then conduct a raffle. Your raffle will be to distribute swag (giveaways). In addition to simply distributing and calling winning tickets, you could be intentional on distributing tickets. Therefore, you could have two sets of tickets: red & blue. Certain leaders would distribute a certain color throughout the event. Then you could prompt the group about whether a red or blue ticket should be drawn for swag.
Swag Swag or giveaways are typically performed after a workshops. You can giveaway swag based on tickets and/or students who demonstrate her / his apps on stage. We recommend calling 8 winners per workshop on the microphone based on the serial number printed on a ticket. Selection of the demo is generally selected by volunteers and/or teacher chaperons
Volunteer Outreach - Internal
Career & Technical Education You should seek school district support to serve as a financial, press, and logistical support before App Day... A great way to check for a local support is with Career & Technical Education - CTE is helping our nation meet the very real and immediate challenges of economic development, student achievement and global competitiveness. Some 14 million students are enrolled in CTE—encompassing every state, with programs in nearly 1,300 public high schools and 1,700 two-year-colleges.
Student Ambassadors Your students make great ambassadors for visiting students. You should have your classes create apps in the workshops. Those students will be prepared to support visiting student with commonly asked questions.
Staff Your teachers and support staff in the school should be able to help with non-technical committees. You should try to recruit these staff members early on and empower them to help with various logistics in developing the event.
Volunteer Outreach - External
Colleges Computer Science Majors. You should seek local college students to serve as technical engineers for support during App Day... A great way to check for a local computer science program in the United States of America is with U.S. College Search - U.S. College Search has direct relationships with over 2,400 schools. It's a great site to check for Computer Science schools in your area.
Corporate Microsoft Research. You should seek corporate support to serve to answer technical questions, and find technical engineers for support during App Day. A great way to check for resource is with Microsoft Research - TouchDevelop an organization, which fully endorses and sponsors App Day Small, Medium, Large.
Areas Designate a room layout: The room layout should capture the registration, color coded areas, food & drinks, presentation stations, demo area, and DJ. You should post signs for bathrooms, device loans, and volunteer break room. The areas of the room that are assigned for student work areas should be clearly marked using a color code system. You can place colored paper or project a certain color using a projector. Volunteers and students must understand where to sit after registration.
Area Leaders- The event requires a certain amount of area leaders. These individuals would provide the workshop guidance and sample code to get the app started. Each student work area should have a designated leader and color coded. Select a color code that would be associated with the work area. One common color arrangement: green, blue, yellow purple and orange. You should provide enough projectors and projector screens for the area leaders
Staging - The event could include an elevated stage for students to view app demo, the speakers, MC, and DJ. Staging can generally be found in any venue. You should ask the venue manager or custodian.
Demo Station We recommend the DJ provides the sound systems and microphones. In addition, you should provide a doc camera for student demos. You would also require a projector screen and laptop for introduction presentations. For each area leader, you would ask them to bring a laptop for connecting to the projector. You should provide a special podium, projector and document camera for the demo station.
Tables & Chairs
Registration Area - Two or three circular or rectangle tables should be setup and enough chairs to accommodate registration volunteers.
Demonstration Area - One table should be setup to project student work. The table should support a document camera and projector
Presentation Area - One table or podium should be setup on stage
Device Loan Area. One circular or rectangular table and chair should be placed in a safe area.
Volunteer Break Area. One circular or rectangular table and chair should be placed in a safe area.
Food & Drink Area The food and drinks should be easily found. setup on a separate rectangular tables or lunch tables.
Student Areas. Every 6 - 8 students requires a table. However, you require one extra space for technical volunteers to assist students. In terms of giving student space for working on apps, you should follow the table guidelines. (Note: If you are not aware of the space capacity of a table, you can test the capacity of a table by placing a chair around the table.)
Food & Drinks - Every student receives bottled water, light snack, and lunch. You could also designate another area for volunteers to receive breakfast pastry, coffee.
Device Loan - You should have an area where students could lend a device. You should keep their chaperon personal ID and student who checked out device until the end of the event. Also, you should encourage students without devices to partner with another student with a device. In case of desiring additional devices for the device loan, you should contact your CTE department or TouchDevelop for equipment loans.
Social Strategy Designate a volunteer to send messages for the event to outside groups through press releases, Facebook, and Twitter. You can find more information below.
Flyer Every great event should receive attention and amplification. You could advertise App Day to other schools.... A great way to advertise the event is through paper based flyers. You can find an example flyer below.
Press Release Every great event should receive attention and amplification. You could advertise App Day to local and state media.... A great way to check for a template on writing a Press Release template is with WikiHow.
Facebook Every great event should receive attention and amplification. You could advertise App Day through Facebook.... You can add an event onto our Facebook Event page. In addition, you can post a new App Day using the guidelines on Facebook event creation page
Twitter Every great event should receive attention and amplification. You could advertise App Day through Twitter.... You can learn about creating a Twitter account and tweeting App Day updates on Twitter
Photography After the event, you could provide the volunteers and students with photos from the event. You could plan to have a student, volunteer, or professional photographer onsite. If you plan to use the pictures on your web site, check with the schools about media release forms that the students or their guardian might have to sign.
WiFi You must contact a networking employee at the venue location organization. S/he must be onsite for any issues with the WifFi during a large scale event. The networking employee can fix connections and manage users on the WiFi system. The networking employee generally must setup one access point for every 50 students. So, the relationship between access points to students is 1 : 50. Basically, IT and network committee members must login to WiFi as a student the day before the event. You must go to Touchdevelop.com. Test login with each provider: Facebook, Google, and Microsoft. The firewall on your WiFi might block some services. If you know the hardware students will bring, the test a connection with each device: desktop, iPad, iPhone, Android, etc. TouchDevelop is a webapp; however, it works offline once unloaded.
Electricity You should find a way to power about 20% of student devices. In addition, you must find power for the sound system and presentation stations. You require approximately two extension chords (15 gauge x 20 foot) for each presentation station: one extension cord is used for the area leader; whereas, the second extension cord is connected to a work area power strip. For example, if you have six area leaders, you should purchase fourteen extension chords (12 cords for areas and 2 cords for the sound system and presentation station).
Entertainment You should contract a professional DJ to play music and ensure a party atmosphere
Microphones Generally, a large App Day requires a DJ. Therefore, the DJ must provide a sound system as well as microphones. There should be 2-3 microphones for the event.
Security Since many devices will be at the event, you should consider hiring security to guard the doors entering the venue. Participants, volunteers, and staff should wear a name badge to distinguish themselves as part of the event.
Signage It makes visiting schools, students, and volunteers feel welcome to have signage as a welcome. Additionally, you might plan to have signs posted for transportation vehicles and foot traffic. You can find examples of welcome signs.
Name Badges - Every students should wear a name badge to introduce their name, show security for admittance, and designate their area color.
Shirts Volunteers should wear a shirt to easily identify the technical and non-technical support for the event. Here is an example of the App Day shirts.
Substitutes For a larger event, a teacher must check with the school or CTE department to determine the budget for assigning a substitute teacher for this computer science event. The general cost of each substitute teacher for a school day ranges around $200. If you find 10 schools in district, the cost for this event could cost the district $2000 for the day. It would be valuable to have a teacher serve as a chaperon for 20-25 students.
Transportation If the majority of students rely on bus transportation, the school and teacher can arrange to transport students. Students could ride public transportation or a school bus. The general cost hiring a school bus equals $120 per day. And multiple schools can use the same bus for transportation. The bus time of arrival should coordinate with the beginning of the event. For large events, we suggest starting AppDay at 9 am.
Day of App Day
Set-up
180 minutes
Registration Table: sign-in, badges, area based color stickers, highlighters, pencils, notepads
Security
Device Loan Areas
Area Leaders
DJ Equipment
Demo Documents
Swag or giveaways
Device Setup
Photography
Workshops
Handbooks FREE -Ask TouchDevelop to assemble the handbook, which includes cover letter & sections dividers (below) & workshop handouts:
General Registration Registration is a key part to ensure the count is accurate for the schools and students attending the event. Collect useful registration information regarding participants:
As students and volunteers register for the event, those individuals wear a certain color on their name badge and go to a specific area based on their color.
Volunteer Roles
Non - Technical Support volunteers are critical to ensure the event runs successfully. These volunteers ensure participants register at the desk for their entry to the event. Additionally, non-technical support volunteers support the management of food, snacks, drinks, and waste disposal. Another helpful job for non-technical volunteers includes the management of pictures and device loans. We recommend having 12-16 non-technical support volunteers.
Technical Support volunteers are critical to ensure the event runs successfully. Technical support includes industry professionals, college students majoring in engineering or computer science, and your students who have already completed the computer science workshops in advance.
Entertainment You should contract a professional DJ to play music. after the 5 minute workshop demo, announce the 5 minute warning, and play a song guessing game before lunch.
Demo Time It is easiest to use a document camera to demo the apps so that students simply bring their device on stage. If not available, you can collect the script id (/abc ..) from the students and load them on the computer that is connected to the projector. We usually recommend lighting fast demo to allow many students to show their work.
After Event
Concluding Speech After the event, you want to provide a summary of the experience to students. You could address anyone who helped in developing materials for this event.
Swag Giveaway After the event, you can have student ambassadors toss event shirts and/or foam mini footballs
Thank you message
---